THE ENTREPRENEURS'
MONEY IMMERSION 

Ready to finally shift your relationship to money, understand your numbers and create money habits that keep you on track? 
This is for you if... 
You're unclear about what "financial success" really means to YOU so it's difficult to create a financial vision or set money goals
There's little or no financial separation between you and your business so you're constantly riding an emotional rollercoaster
You don't really know your numbers so it's impossible to make financial decisions confidently or truly understand how much money need to make
You've got "money stories" that are blocking you but you just can't seem to figure out what they are so you keep avoiding the money and self sabotaging
You've read the money manifesting books and you're saying all the affirmations but that money tree still isn't growing in your backyard 
You're afraid to increase your prices or pay yourself well so you keep undercharging for your offers and overdelivering 
You're overwhelmed by money systems so you're paralyzed in disorganization  
Every time you sit down to figure out this money piece you don't even know where to start so you keep losing trust in yourself 
You're exhausted from the stress and anxiety and you know there must be an easier way.

What if it was possible to finally get out of the cycle of
scarcity and become empowered with your money?
Imagine...
Defining financial success based on what truly matters to you so that you stop chasing someone else's dream
Shifting your money stories and releasing the shame, blame and blocks so you experience abundance and move forward with ease  
Knowing and tracking your numbers so you can make smart, strategic financial decisions with confidence
Creating a simplified money plan and designing a revenue map so you know your next strategically, aligned steps to take
No longer de-valuing yourself and your work and changing your pricing in true alignment with your deliverables so that you finally create more revenue with ease   
Establishing money systems, habits, and rituals so you stay on track
Creating new measurements of financial success so that you experience a new level of abundance immediately and become a magnet for more money
A profoundly effective seven step method that will help you become empowered with your money and know exactly what your next steps are to create abundance and wealth in your business and life.
WHAT YOU'LL RECEIVE:
The DDA Money Course: Following The Define Design Align Method, this seven module on-demand training will provide you with the knowledge and skills to  transform your relationship to money and organize your finances. (12 months access)
Workbooks, Templates and Tools: To implement the money strategies and practices quickly and easily into your business and life
7 x 1 Hour (+ 30 mins Q&A) Live Workshops & Coaching: Designed to support you to implement the strategies learned in the course and do the work!
Private Community and The DDA Network:  Join like-minded, heart-centered peers empowering and celebrating each other to reclaim their financial wellbeing. And have access to qualified referrals and recommendations.
MODULE 1: START BY TAKING STOCK OF YOUR MONEY
The first step is to take a good honest look at where you are right now with your money. You'll be guided to start understanding your relationship to money and be supported to gather the financial information you need to empower yourself to move forward with clarity and confidence.  
MODULE 2: UNVEIL YOUR DESIRED FINANCIAL EXPERIENCE & VISION
You'll redefine financial freedom and create your desired financial experience and vision on YOUR terms. Understand your next level of financial success and anchor in your new identity to help you step more easily and quickly into a deep sense of abundance.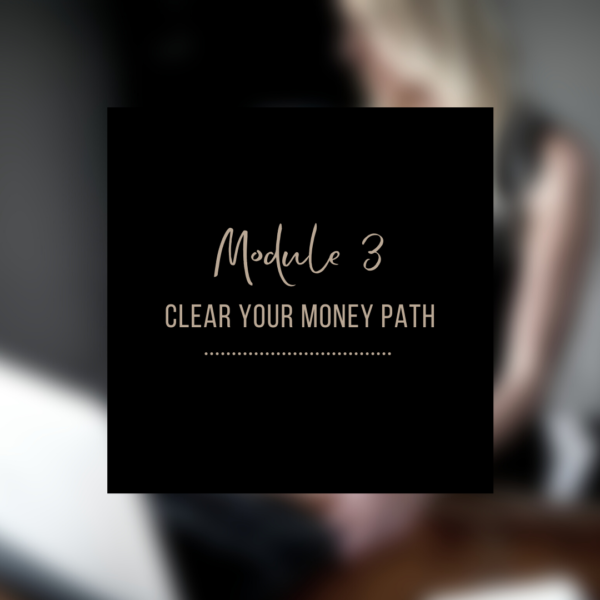 MODULE 3: CLEAR YOUR MONEY PATH
Finally shift the money stories that are standing in the way of your financial freedom. Using The DDA SHIFT Method, you'll get crystal clear on what's blocking your path, you'll experience deep relief though this knowledge and you'll create new stories that truly support you to move into an empowered relationship with your money and take action.
MODULE 4: CREATE YOUR MONEY ROAD MAP & ENLIST EXPERTISE
Based on your new vision and next level of financial success, you'll create your Money Road Map and set specific achievable goals with respect to revenue, savings and debt. You'll complete your Master Money Template and Revenue Map to ensure you know your numbers and forecast for your business. These templates are GOLD! And you'll enlist the expertise you need! 
MODULE 5: EMBRACE SUSTAINABLE MONEY SYSTEMS & BUILD YOUR TEAM
Understand how to create systems, establish the what you need and create simple money systems that work for you! Then really identify the support you need to have in place to help you stay connected and accountable to your money.
MODULE 6: SIMPLIFY & INTEGRATE MONEY HABITS & PRACTICES
Identify and integrate new healthy money habits and practices to align your daily actions with your money goals and expand your capacity to experience abundance. You'll create (and start to LOVE) your personalized money date ritual as you experience a whole new way of being in relationship to your money.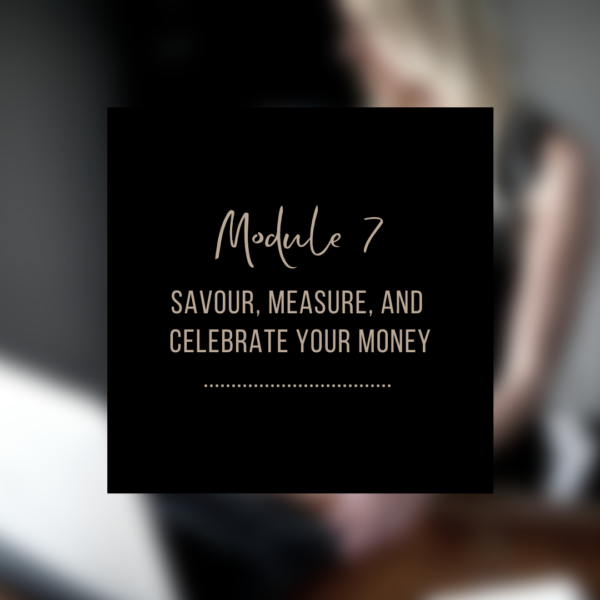 MODULE 7: SAVOUR, MEASURE, & CELEBRATE YOUR MONEY
Create new measurements of money success based on what matters the most to you and your financial goals! Learn and experience the power of celebration as a concrete tool to expand your capacity to experience more financial success.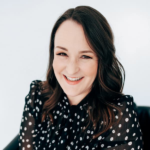 Working through the DDA Money Course has been a game changer! I previously avoided my numbers but now I am actually happy to dig into them regularly and I have a handle on all of my business expenses and income! The templates and worksheets save a tonne of time – but it's the 'money story' shifts that have made the biggest impact. Highly recommended. - Victoria Gazeley Web Designer and Online Strategist 
I can honestly say, this program has made a tremendous difference for me - not just in how I see my financial numbers - but in how I see my old stories and ways in which they've kept me small and stuck. This is potent work! I highly recommend this and Leah's graceful approach to holding space for you. Love it! - Aleksandra Slijepcevic, Writer

I used to be terrified to look at my bank account but after taking The DDA Money Course and working with Leah, I now look at it everyday. I reached my revenue goals, have consistent weekly money dates, learned to shift my money stories and recently have gone even deeper in understanding my money patterns. If you want to start truly building a new empowered relationship with money - this is for you! - Caroline Carson, Luxury Real Estate Agent

I reached my revenue goals yet the biggest shifts were around working through my money and "being seen" stories which is why my income increased. The internal benefits are just as profound as the external. - Melissa Teel Hartman, Heart and Soul Healing Arts

LIVE WORKSHOPS AND COACHING
THE NEXT LIVE MONEY IMMERSION LAUNCHES MAY 25th!
The Live Money Immersion is specifically designed to support you to implement the strategies learned and tools received in The DDA Money Course and actually do the work because the hardest part of this money work is actually the time commitment, navigating the resistance and working through the blocks and stories.
There are 7 weekly, 1 hour workshops (+ 30 mins Q&A) and a private group, so you finally have the implementation support, guidance and connections to truly gain traction and start being empowered with your money.
During each live session, you'll have time to work on the money course, answer the questions, fill in your templates, dive into the resources and have your questions answered. Sessions are held on Zoom and ALL SESSIONS ARE RECORDED
BONUS 2 HOUR MONEY WORKSHOP

In September, you'll be invited to return to revisit where you're at with your money journey and have the opportunity to dive back into your numbers and continue to expand that financial vision.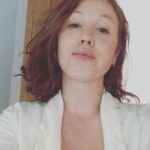 I spent so much time over the years trying to get a handle on my finances! The DDA Money Course gave me a completely different perspective on my finances and has been the most impactful! In the time working with Leah, I have doubled my revenue, raised my rates, have clarity of where I'm at and a plan for my future. Most importantly, I finally have a great relationship with money with easy and tremendously effective techniques to help me stay on track to my definition of success. - Julie Starsage, Acupuncturist 
I have transformed my relationship with money. This course helped me understand how my stories around money were driving my behaviour. Most courses would stop there but then Leah gives you the techniques you need to transform your mindset and the tools that will make it all happen so you can implement what you have learned...frankly this course will change your life. - Cindy Stockdale, Energy Artist  
I spent years hiding from my money, both when I had it and when I didn't. Through the DDA Money Course and working with Leah, I was able to unravel the money stories, anxiety and fear of the truth of my numbers. Then implemented strategies to consistently shift the stories and systems to stay on top of my finances with so much more ease. An interesting thing happens when you change your relationship to your money and put your attention somewhere… that's where the abundance starts to flow! – Karla Shields, Owner, The Seasoned Kitchen
THE ENTREPRENEURS' MONEY IMMERSION INCLUDES:
The DDA Money Course (12 months access)
Workbooks, Templates and Tools (These are GOLD)
7 x 1 Hour (+ 30 mins Q+A) Live Workshops & Coaching
Private Community and The DDA Network 
Bonus: Money Workshop 
SPECIAL PRICE




$450 OR 3 Payments of $150 


(Regular Price: $600)
3 Monthly Payments of
$150
Price in CAD or USD based on location
Pay in Full - Single Payment of
$450
Price in CAD or USD based on location
If you have another question or you're not sure if The Entrepreneurs' Money Immersion is right for you at this time, I'm more than happy to connect! Please send me an email at leah@leahgoard.com.