Your 90 Day Road Map
Workshop
Did life get in the way? Are you feeling behind ... again?!
Don't waste the rest of the year trying to get back on track!
In ONE DAY create a plan, reclaim your time and achieve your 2016 goals!
DON'T WAIT TO GET BACK ON TRACK!    
Welcome Wise Warrior,
Lack of clarity, indecision and distraction are the three biggest reasons you are not getting things done!
You are in charge of your time, energy and resources and you have a choice - spend the rest of this year painfully fumbling around OR land on December 31st with a "HELL YES, I DID IT!"
It's time to take stock of what's working and not working, get crystal clear on your goals, re-prioritize your time to focus on your next steps that will bring the greatest return before ringing in the New Year!
Join me and a group of dynamic, business owners, entrepreneurs and individuals for a virtual day of planning! Take this opportunity to stop… breathe… tune in so you can truly create more freedom, joy and abundance in your world! 
DATE: Friday, September 16th 
TIME: 9:30 AM – 2:30 PM (PDT)
LOCATION: From the comfort of your home, office, the coffee shop… in your pj's or your fancy suit. This is a live virtual event – all you need is your computer, pen and notepad, telephone (optional), a cup of tea and a sense of humour. 
YOUR INVESTMENT: ONLY $47.00 (And you can bring a friend for FREE) 
HOW OUR DAY WILL UNFOLD
Our time together is divided into three modules which follow my three-step planning process: 
DEFINE – where you are now and what your true priorities are for the rest of the year (we go deep, fast and dig up gold) 
DESIGN – a simple 90 day road map and timeline with your goals and strategy so you know exactly how to get from A to B this fall  (you are provided with powerful tools to make this easy)
ALIGN – your time, energy, thoughts, decisions and actions to keep you focused on your key priorities (we jam on key strategies including your morning ritual, scheduling non-negotiable focused time blocks, and boundaries to help stay productive, feel amazing and get things done!) 
This is NOT a day of theory - we are going to DIG RIGHT IN and take INSPIRED IMPERFECT ACTION and get your 90 DAY ROAD MAP DONE.
Each module starts with a short live webinar and jam session with generous blocks of time to get your road map is complete. The workshop is live and I am available for the entire day so you can ask questions at anytime.  And there will be lots of breaks and time for lunch so you can customize the day to suit your needs. 
The entire day will be recorded for your listening and watching pleasure – so you can refer back to it whenever you want! OR if you can't make it live, you can do the entire workshop on your own or with your partner. 
YOUR INVESTMENT IS  ONLY $47 CAD (plus applicable taxes) AND...YOU CAN BRING A FRIEND – FOR FREE!
It is essential to the health and abundance in your life and business to surround yourself with a collective of like-minded, passionate people who will show up and dance with you! Which is why I am inviting you to bring a friend, soul sister or brother or partner to join us – for free. (Please note that you must register your friend when you register for the workshop - so give her/him a call right now!) 
REGISTRATION IS NOW CLOSED. TO LEARN ABOUT THE NEXT WORKSHOP, SIGN UP FOR MY NEWSLETTER.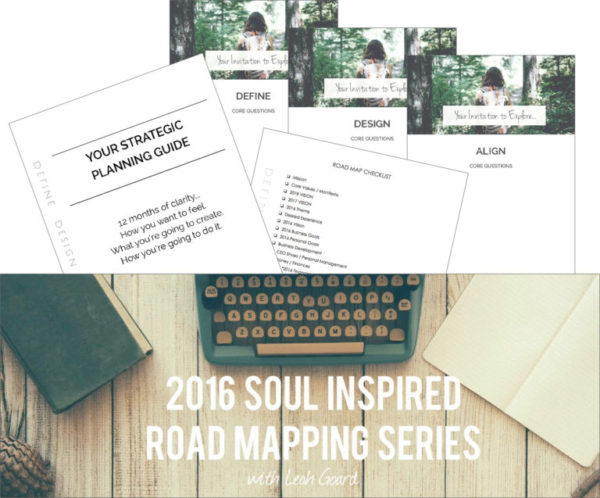 The 90 DAY ROAD MAP WORKSHOP is built on the foundation strategies that were taught in the 2016 SOUL INSPIRED ROAD MAPPING SERIES PROGRAM in January. As a SUPER bonus, you will receive access to this entire program with your workshop registration. This highly valuable, three part webinar series and toolkit deep dives into the DEFINE DESIGN ALIGN strategies and methods that will simplify and integrate all the pieces of your life and business. You do not need to complete this prior to our workshop. 
IN THE 2016 ROAD MAP SERIES YOU WILL LEARN:
How to thread your big vision down into your daily action plan
How to create your own Profit Map and use the Rate Calculator
How to make decisions in alignment with your true priorities
YOU WILL RECEIVE YOUR ROAD MAPPING TOOL KIT: 
DDA Strategic Planning Guide
The Expanded 2016 Road Map Template
Marketing + Editorial Calendars
Profit Map and Rate Calculator
Time management templates, tools and how-to videos
YOUR INVITATION TO THE DDA DANCE FLOOR
Your support doesn't stop when the workshop is over! The DDA DANCE FLOOR is a dynamic and sacred space for you to connect, share your magic (you, your products and services), ask questions, and strategize with your peers. Access to this private Facebook Group is PRICELESS. We have brilliant members and everyone is extremely generous with their support and expertise. Your support doesn't stop when the workshop is over!
I am a soul-searching business + life strategist, professional organizer and speaker. I am eternally fascinated by what makes people groove. I am a mom, partner and woman in hot pursuit of the multi-layered answer to one very important question: What does it truly take to THRIVE in your business + life?
My journey as an entrepreneur began over twenty years ago, and I deeply understand how hard it can be to navigate the intimate details of your life while trying to grow a sustainable lifestyle + profitable business.  You can read more about my journey here.
"Leah offers practical tools that are easy to implement, immediately effective and spark natural extensions of my business to produce greater results. I'm thrilled to have been given this easy-to-execute plan that has reduced my stress and increased my productivity and creativity"
–Victoria Maxwell, Award Winning Actress and Speaker,  Crazy For Life Co.
"I had been feeling uncomfortable for months, knowing that my business wasn't going in the direction I wanted and my personal life was becoming too busy to enjoy. Your webinar was exactly what I needed to re-assess the big picture of what is important to me, and provided a strategic plan to help me get there. Three months later,  I've already achieved many of my relationship, money and personal growth goals. By committing my thoughts and deep feelings to paper, I worked towards those goals with ease and assurance that I am designing a life and business that is truly right for me."  – Elena Verlee, PR In Your Pajamas & Cross Border Communications
"Total light-bulb moment for me, personally and business-wise and I thoroughly enjoyed your webinar! I felt like you were speaking right to me, and me alone.  It was like you were in my brain, clearing away the cobwebs that have kept me snarled up in inactivity. I guess that means that my problems are pretty universal, but it also means that you've designed the plan to allow for personalization through its details.  Thank you, Leah this couldn't have come at a better time for me."  – Angela Rae, Angela Rae Interior Design
Yes, the foundation planning process can be applied to any area of your business or life. The content, templates and tools are customizable, so if you do not own a business you can simply focus on your personal plan.
Not in this workshop.  Our focus is on how you show up, prioritize  your time, plan and implement with a specific focus on the rest of 2016. During the 90 DAY ROAD MAPPING WORKSHOP, we will delve deep into strategies to help you get crystal clear on your key priorities, improve your focus, take inspired imperfect action to reach specific goals.  We will ensure that you have taken the time to reflect, gain insight and launch back into your world with a crystal clear road map to follow.  We do not specifically delve into strategy in areas such as marketing, branding, finance etc. Other programs launching later in 2016 will cover these core areas. For in-depth, individual support you can book a ROAD MAPPING SESSION. 
The day will be recorded, so if you aren't able to make it live then you have the opportunity to do the day on your own or with a partner anytime. 
NO, you do not need to listen to the recordings of the ROAD MAPPING SERIES - IT IS A BONUS. You will be given immediate access to this program when you sign up for the DDA 90 DAY ROAD MAPPING WORKSHOP and it will be highly beneficial for you to go through the program but it is not required. 


I completely understand that setting aside a full day for a workshop may not be a fit for you right now. I also know that you are committed to creating momentum in your life and business - so don't miss downloading my FREE Land and Launch Guide! This one game-changing strategy and monthly planning template will help you to get grounded, focused and productive this fall. Plus, you'll receive soul-fueled strategies to thrive!