Transform the way you run your business
and live your life!
YOUR FREE MORNING ROAD MAP
You don't HAVE to meditate for 2 hours every morning to be happy and productive. You just need to figure out a powerful, personal morning ritual that works for YOU! 
*Plus, you'll receive dispatches with valuable insights, tools, free guides and good stuff!
Building a flourishing business or career... creating financial freedom... wrangling children... making a sacred home... nourishing yourself and caring for your loved ones – navigating it all can be tough, overwhelming and sometimes pretty lonely.
But there really IS a way to:
Cultivate magic and meaning in your life.

Build creative and financial abundance in your business.

Have freedom to spend your time on what matters most – to you
The secret is, it takes soul and strategy! (And a great sense of humour.)
It starts the moment you decide to take radical responsibility for your world.
I'm here to help you...
DEFINE what you truly want – get crystal clear on what lights your fire
DESIGN your unique road map – so you know exactly how to get to where you want to go
ALIGN your decisions with how you want to feel – so your vision of tomorrow becomes your reality today
It doesn't take more work... it takes doing something different. 
Are you ready?
The moment-by-moment decisions you make bring you closer to the experience you so deeply crave – or further away.
– Leah Goard
Happiness is when what you think, what you say, and what you do are in harmony.
– Mahatma Gandhi
I'm a soul-searching business and life strategist, serial entrepreneur, professional organizer, writer, speaker and independent mom. I love humans (and my dog Merlin) and I'm wildly fascinated by what makes us groove.
For most of my life, I've been in hot pursuit of the multi-layered answer to the following...
What does it really mean and what does it take to truly thrive?
"Leah works on a gut level. She gets right to the core of who you are and digs up gold!"
– Lisa Houle
---
"Working with Leah has been one of the most important steps in growing my business. Her business savvy is bang on."
– Suzanne Doyle Ingram, bestselling author and publisher
---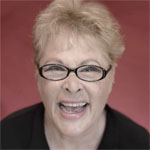 "Trust me, when you work with Leah you WILL make profound changes in your business and your life!"
– Judy McLarty