I WILL HELP YOU CHANGE YOUR EXPERIENCE AND
BUILD A BUSINESS AND LIFE THAT TRULY REFLECT
WHO YOU ARE


HELLO WISE WARRIOR, IT'S SO GOOD TO MEET YOU!  
My name is Leah. I'm a business and life strategist, serial entrepreneur, professional organizer, writer, speaker and independent mom. I'm deeply passionate about redefining success and curious about what it really takes to truly thrive.
As an entrepreneur for over twenty five years, I've owned businesses in Australia, England, Japan and Canada in health and wellness, marketing, import/export, education, and offshore finance with a 2-day stint packing mangoes in the desert.
I have a few life experiences and lessons under my belt... loss, emotional abuse, financial devastation, and more than a decade struggling with my self-esteem and body image.
For years, I spent most of my time working, ensuring that I didn't have the capacity, clarity or energy I needed to truly nurture my life. I lived mostly in my head, which kept me safe – not only from the pain that was yearning to be healed but also from the intimacy, abundance, joy and freedom that resides in that same place.
Now, this is where I am supposed to insert THE ONE big earth shattering moment that I decided to change it all... but you and I both know, that's not how it works.
It doesn't happen overnight or by following someone else's top ten tips for success.
Becoming the driving force in your life and work is an epic, personal and professional journey that starts with your decision to take radical responsibility and say YES to what you truly desire. 
Transformation happens in the moment by moment decisions you make and actions you take that brings you deeper into alignment with who you are and what you truly desire. 
THE DEFINE DESIGN ALIGN CO.,
Twelve years ago, I launched what has now evolved into The Define Design Align Co., a business and lifestyle design company empowering you through training, coaching, and products to intuitively and strategically reshape your world.
Over time, as I worked intimately with clients, each struggling to create alignment in their lives and build profitable businesses and flourishing careers, I knew something at the core was missing.
It wasn't just a strategic plan, financial management system or divorce they needed... these were all just pieces of a larger puzzle. They needed a different perspective, a new definition of success, an expanded vision of possibility and a whole new set of skills and tools to get them there.
So, I spent several years keenly observing the patterns of what showed up, what worked (and didn't) and how to approach each next step.
Through this research and 20 years of experience, The DEFINE DESIGN ALIGN Method emerged and is the foundation of what drives the results that have helped hundreds of courageous, discerning individuals and business owners – each with a unique gift that the world needs - to reclaim their lives, evolve their businesses and create freedom on their terms.
THE DDA COMMUNITY
You are the sum of the people that you surround yourself with
Over the last decade there's been a magnetic pull that has organically brought an incredible group of like-minded, heart-centered, engaged and highly invested individuals together to empower each other, to raise the bar in their lives, expand their businesses, support one another during the twists, and celebrate each other's successes! This is where ideas gain traction, deep friendships are born, and magic happens.
Morning matcha, my son reading to me, my dog's breath, my father's hug, girlfriends that rock, great lighting, white walls, wicked photography, kick-ass courageous clients, vanilla, La Petite Souris Chocolate, my Libre Tea Glass, Pilates, sunshine, sexy boots, stillness, strength and vulnerability, crazy ideas, flip flops, integrity, grace, true stories, road trips, dancing – anytime, anywhere and that moment when the impossible becomes possible.
Working with Leah and the DDA methods, I felt incredibly supported in very real tangible ways such as marketing, finances and branding, but the overriding theme to Leah's work is really a gentle stripping away of your stories that hold you back from realizing your dreams. I've sold my work, have paintings in private collections and have hosted Art & Yoga Retreats in Spain.  I experience more clarity, focus, and confidence. - Marlene Lowden
Since working with Leah and implementing the DDA methods and tools I've become laser focused and more productive. The best part, though, is how I FEEL about my art practice and my decision to be a full-time artist.  The icing on the cake? A brilliant community of endlessly supportive, amazing entrepreneurs. The wit, intelligence, and generosity of the DDA Community knows no bounds. - Jody Macdonald, Visual Artist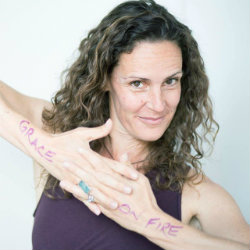 Leah and the DDA community have been instrumental in having created my business and life that I love. I would not be where I am without her fierce devotion to my process and journey. You'll receive everything you need - the wisdom, training, tools, guidance, and community of support will take you straight into your powerfully aligned business and life.   This is for you if it's time to do things differently! - Tanis Frame, Leadership Coach, Thrive Catalyst
I had been feeling uncomfortable for months, knowing that my business wasn't going in the direction I wanted and my personal life was becoming too busy to enjoy. The DDA Method was exactly what I needed to re-assess the big picture of what is important to me, and provided a strategic plan to help me get there. Three months later,  I've already achieved many of my relationship, money and personal growth goals.   – Elena Verlee, PR In Your Pajamas & Cross Border Communications
THE DDA GUIDE TO JOURNALING
A unique, simple practice that has the power to significantly shift the way you feel, spark creativity and help you reach your goals.
*Plus, you'll receive dispatches with valuable insights, tools, free guides and good stuff!