Life has held many challenges




over the last several months...
Maybe it feels like Groundhog Day and you're struggling to get out of the loop.  
Maybe after the curve balls you're starting to put the pieces back together. 
Or you have a desire to re-light that spark to experience more creativity and joy in your work and life.  
If any of these ring true... this tiny challenge is for you!  
As I share in my story in the DSD Guide, the Do Something Different Challenge wasn't a well thought out strategy. It was just an idea that came to me, while on the floor, desperately stuck in my stuff, following some major life changes.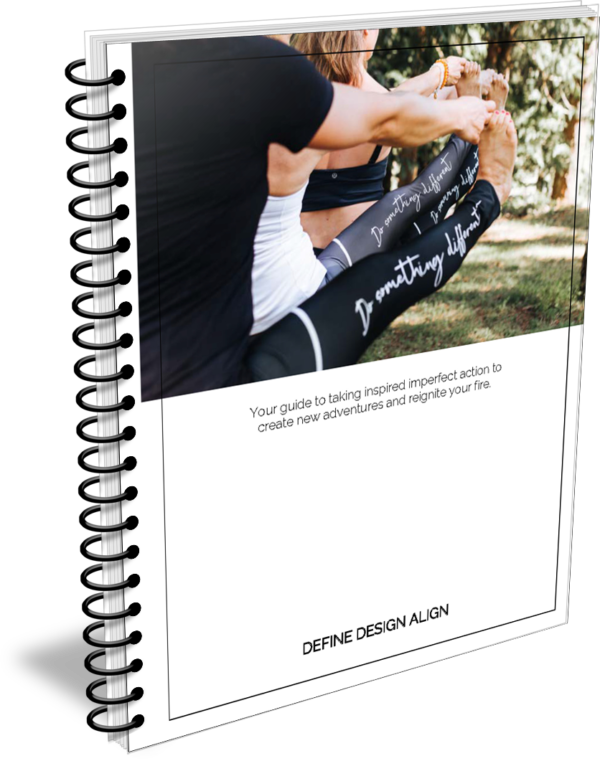 I had no idea the profound impact it would have on how I experience my life, the shifts that have happened and the results that have come from choosing to show up and do something different time and again. And because of this, I have made this a non-negotiable commitment to myself – forever.  
This idea has evolved over the last few years. Sometimes it's not just about doing something different but doing something differently.
I've shared this idea with friends and clients who've gone on to do some incredible things and do some things incredibly different that have expanded their experience of what is truly possible.
Which is why I want to invite you to join this tiny challenge. 
HOW IT WORKS: 
It's super simple...Every week (or day), take INSPIRED IMPERFECT ACTION and DO SOMETHING DIFFERENT. That's it.

There are examples in the guide and at the end of the day, you make your own rules.
If you want to add some adventure to your relationship or family life, invite your partner or kids to join you.
If you want to track it – great! If not, don't.
If you want to share your DSD adventures and inspire others – awesome, that's what it's all about! Grab a friend for an adventure or take a photo and post it on your FB wall or Instagram. Use these hashtags: #ddadosomethingdifferent  #inspiredimperfectaction and tag me as I'd love to see what you are up to and share your ideas.
*When you sign up for the guide you are opting into our main DDA mailing list. You can easily unsubscribe at anytime.
Here's to new and rich experiences and some potentially
profound changes in your world!  
I've been an entrepreneur for over 20 years. I'm a lifestyle designer and business strategist and for the last decade I've intimately worked with hundreds of passionate entrepreneurs and individuals.  
I've helped individuals, organizations, yogis, truckers and millionaires re-design their lives, create abundance and reclaim their freedom. 
It would be my pleasure to connect with you on your adventures while choosing to Do Something Different! 
You'll find me here on Instagram or FB Personal or FB Business where I share my own personal experiences. 
Leah
If you want a different experience,
then you're simply going to have to do something different.